Upcoming Episode: Street Survivors/Our Tribute to Lynyrd Skynyrd...
On October 20th, 1977, an airplane crashed into a Mississippi swamp killing Ronnie Van Zant, guitarist Steve Gaines, Backup Singer Cassie Gaines, Road Manager, Dean Kilpatrick, Pilot, Walter Mccreary, and Co-pilot, William Gray, and injured the remaining members of The Lynyrd Skynyrd Band. At this point in this band's career, they had opened for The Rolling Stones at Hertfordshire's Knebworth Park on August 21, 1976.  So, tonight, we pay tribute to the memory of Ronnie Van Zant, Steve and Cassie Gaines, Allen Collins who passed away on January 23,1990, Bassist, Leon Wilkeson who died on July 27th 2001...to one of the greatest piano players that ever lived, Billy Powell, who died on January 28, 2009. Original, and founding Drummer, Bob Burns who died on April 3rd, 2015, along with  one of the greatest riff makers of all time, who came up with Skynyrd's biggest classic "Sweet Home Alabama." Ed King who passed on August 22, 2018. and finally founding Bass Player, Larry Junstrom who passed on October 6, 2019. 
0:00/1:16:00

0:00/1:16:57

0:00/1:31:13
The Truth Behind The Lynyrd Skynyrd Plane Crash...
Ronnie Van Zant Of Lynyrd Skynyrd Predicted His Own Death...
When Lynyrd Skynyrd's Ronnie Van Zant died in a plane crash at the age of 29, music fans were shocked and saddened, but the accident seemed to make good on dark premonitions the singer had been sharing for years. As far as rock 'n roll legends go, the plane crash that killed three members of Lynyrd Skynyrd -- Van Zant, guitarist Steve Gaines, backing vocalist Cassie Gaines -- as well as members of their crew and the pilots is one story that never fades away. Aside from being something that could have been averted, the crash has the air of an urban legend surrounding it. Members of the band were involved in car accidents leading up to the crash, many of their songs were about characters who lived on the razor's edge between life and death, and then there was the fact that Ronnie Van Zant predicted his death multiple times.  On the evening of October 20, 1977, the band boarded their chartered Convair CV-240, a plane that was built in the 1940s and that had taken nearly 30,000 flights. The band would have had better luck flying a tin can to Baton Rouge. Aside from the CV-240's age there were plenty of things wrong with the plane. Not only did it not have enough fuel to make the trip, but its right engine had been sputtering and shooting flames during its most recent flights. 
Still, the band got on board that evening and settled in for a night of partying on their way to Louisiana. When the right engine went out everyone on board panicked, but according to drummer Artimus Pyle, Van Zant rose from the floor where he was getting a massage and calmly walked to his seat after shaking the drummer's hand. Pyle told Rolling Stone, "Ronnie knew that he was going to die." *Read the full story at:
https://groovyhistory.com/lynyrd-skynyrd-plane-crash-ronnie-van-zant
'Street Survivors: The True Story of the Lynyrd Skynyrd Plane Crash': Film Review...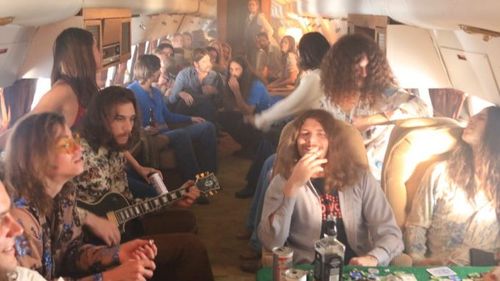 As an aeronautical disaster movie, it ranks, but any serious characterizations of the famed Southern rock band are left up in the air. 
By Chris Willman
 "It may be a blessing of sorts for anyone interested in checking out "Street Survivors: The True Story of the Lynyrd Skynyrd Plane Crash" that its VOD release is coming in the middle of a pandemic, when not very many people are rushing to get back on planes again anyway. The film delivers on the promise — or threat — of its title in a big, vivid way, with enough drawn-out suspense once engines start backfiring and enough grisly carnage on the ground to give most viewers at least a second thought about flying again soon, at least on a prop-engine plane, and especially one with musicians on board. Despite its probably modest budget, "Street Survivors" is actually first-class as convincingly harrowing aeronautical disaster movies go, if you're a follower of the genre that has Peter Weir's 1993 "Fearless" to live up to." *Please follow this link to read the full post. https://variety.com/2020/film/reviews/street-survivors-lynyrd-skynyrd-plane-crash-review-1234695477/
"What song is it you want to hear?" ~ Ronnie Van Zant